Here's one of the few ways we had to publicize things before we had blogs and social networking sites to post things on: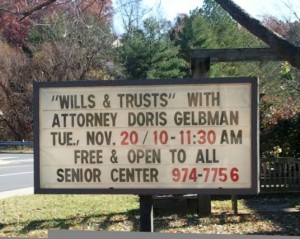 Honored to be invited to speak at Senior Center on the third Tuesday of EVERY month.  This month we are doing a closer look at Wills & Trusts.   Hope you'll come and bring a friend.
BTW: I have a friend that lives nearby the Senior Center. He calls that area — Greenbrier Dr., Pepsi Place and Hillsdale Drive "death valley" because of all the companies and agencies located there for old folks (my friend is 90, he can call it whatever he wants). Just to name a few of the agencies in that vicinity: JABA, JABA Care Advantage Home Health, Branchlands (independent living) Our Lady Of Peace retirement community, Rosewood Village Assisted Living, The Laurel (nursing/rehab), The Alzheimer's Association. And of course, the Senior Center. But it is FAR from folks waiting for the inevitable. It is a vibrant, active community where it's possible to watch the deer and wild birds outside your window and then take an easy walk over to the mall.
 Charlottesville is a GREAT place to retire!